"Summertime and the livin' is easy…" Those famous lyrics from the 1935 musical Porgy and Bess may have some truth to them. Summer means no school, more beach trips, and time for rest and relaxation. But while the summertime livin' may be easy, the summertime children's ministry schedulin' is a little more hectic! We have a lot that goes on here during the summer, as evidenced by the pictures you've hopefully seen on Facebook. Here's a brief recap of what our children have been up to so far…
Vacation Bible School: 43 children attended this 3 night program of Bible stories, crafts, games, and missions. They learned stories about the many ways Jesus surprises us with his love, his compassion, and his grace, and had a wonderful experience thanks to the dedication of so many volunteers who helped teach, guide, and feed them each night. (If you know a VBS volunteer – thank them!) They also raised $225 for Marc and Kim Wyatt, CBF Field Personnel in Raleigh, NC, who minister to refugees and internationals in the Triangle Region.
Baptism: Gabrielle Hardee was baptized on June 18. It was a wonderful day of celebration as this child took an important step in her faith journey.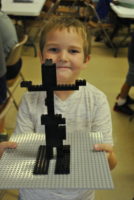 Lego Mini-Camp: 16 children played with Legos and learned Bible stories about David at the same time! I loved watching the creativity of the children as they took some of the building challenges I gave them (create a Lego Goliath, build a Lego crown) and brought them to life in so many unique ways. We had a blast together!
Still to come this summer? A trip to Passportkids camp in Spartanburg, SC (we leave this Sunday); Art Mini-Camp (with a focus on missionaries around the world); and Music Day Camp (we still have a few camper spots open – register today!).
All of these activities and ministries are not possible without this congregation. Your support (with finances, service, and prayer) allows us to offer meaningful activities for children throughout the summer. Thank you for being a congregation that values children and invests in their faith development!
Erin