The church g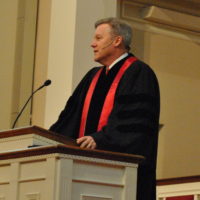 rowth gurus out there would likely tell me that the first Sunday after school lets out is not the time to kick off a stewardship emphasis. They are likely correct. Summer is upon us, and many of you are headed to the beach or family vacations. I wish you safe travels throughout the summer. I also know that summer is an incredibly active season in the life of the church. Next week we will have Vacation Bible School, and in the weeks to come our youth will go to Charleston for Mfuge and our children to Spartanburg for Passport Kids. We will also have children's mini-camps in July and Music Day Camp in August. There is no slow season in the life of the church, so I am asking you to join us this Sunday and say I'm In! at First Baptist.
I wrote you last week and asked that you not only say I'm In!, but that you increase your giving, prayers and service. Many of you have already returned the commitment card that was included in the letter, and I am thankful for your commitment and enthusiasm. This Sunday, we will dedicate a few minutes of both worship services for you to return your commitment card. We will do this at the close of the services. You can respond during the closing chorus/hymn or, if you would prefer, remain in place and Doug or Erin will come back and receive your card. Next week, those of you who have turned in your cards will receive follow up information as to how you can live your I'm In through giving, service and prayer.  Also, please be sure to pick up an I'm In Prayer Guide.  The guide includes a calendar of summer activities and a prayer model.
I was recently asked "when I say I'm In at First Baptist, what am I saying I'm in to?"  This is an excellent question. My first answer is that saying I'm In is a commitment to Jesus Christ.  It is putting our most valued resources (time, ability and money) into God's hands in the faith that God will use them to deepen our church's life in Christ and empower us to impact our community with God's love.  When you say I'm In with your prayers, service, and finances, you are saying that you believe in a God who is working through churches like ours to make the world a better place.  There's more to my answer to this question, and I look forward to sharing it with you on Sunday.
Peace, David