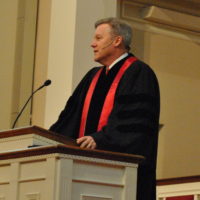 I have read, taught and preached John 21:15-19 several times over the course of my ministry. It is the story of Jesus asking Peter, "Do you love me?" three times in the wake of Peter's three denials. As I said, I know the story fairly well, but I had an interesting weekend with this story while I was at the Shalem Residency in June.
The night before I left for the residency I could not help but think that we have been asking the wrong questions lately. We have been asking questions like "How can we get more people in church?" and "How can we get these people to give?" These are important questions, but they are not the right questions for us to be asking at this time.
I went to the residency and enjoyed a week of classes and group interactions in spiritual direction. As the weekend approached I thought I would pray, read and listen for the Spirit's guidance as to the questions we should be asking.
In the last class before our "Silent Sabbath" we were told a story about a woman who experienced a terrible tragedy. In the wake of the experience she felt the Lord saying "I want you to love me more than anything else." The story did not set well with me, but I did not dwell on it. I set it aside and got ready for the weekend.
As I woke on Saturday morning the story came to mind along with the interaction between Jesus and Peter in John 21. I read the passage as my morning devotion and started the day.
As I went through the day the Spirit kept bringing up Jesus' question… do you love me more than these? By the afternoon I realized that this is the question we need to consider. "Do we, as individuals and as a church, love Jesus more than these?" The answer may seem obvious, but it isn't, especially when "these" are packed pews and full offering plates. "These" can be good things, but "these" become idols when they are our highest priority. Every good question prompts a few more and the questions behind "Do you love me more than these?" include "What are my 'these?'" and "Why do I love 'these?'" These are the questions we need to be asking right now and I will be writing more in the weeks ahead to help us pray and respond.
Peace, David