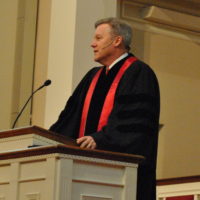 There is no doubt that when you say I'm In!, you're in! Two months ago I asked you to consider your commitment to the ministries of First Baptist Church and you responded with enthusiasm and commitment. We received over one hundred commitments with 95 expressing a willingness to pray more, 61 pledging to increase their service and 105 committing to giving more financially. These were encouraging numbers and it is thrilling to see you keeping your word!
This has been a busy summer at (and from) First Baptist. Our children have enjoyed four terrific "camps" at the Church. They engaged the scripture at Vacation Bible School, Lego Camp, Art Camp and Music Day Camp. They took their learning and growing on the road to PassportKids in Spartanburg, SC.
Our young adults and youth were also on the go this summer. They have been to the beach, the mountains and Charleston, SC. Our beloved Friends of Jesus have also enjoyed Vacation Bible School and a terrific time at Happiness Retreat.
I am thankful for Erin and Doug's commitment and leadership, but there is no way these programs would happen if it were not for your prayers and you giving your time, energy and money. Thank you!
I believe there are numerous ways to measure the vitality of a church's ministry. I don't like to dwell on the financial, but it is important that you know what has happened over the past couple of months. In May of this year, our receipts were $47,488.62. This is an average monthly amount. In June, as we started the I'm In! emphasis, our receipts were $55,320.56. In July our receipts rose again, climbing to $75,498.92! I have not studied our giving trends in depth, but it is highly unusual to see giving increase in the summer months. As I said, when you say I'm In!, you're in! and I am grateful for your generosity.
We've had a good summer, but fall is coming and with it, a new Sunday School year, Family Night activities, Community Cafés, Operation Inasmuch (September 16), and the SAFE Seminar (October 28-29). You gave a resounding response to I'm In! and I pray that you will "stay in" with your prayers, service and giving as we follow Christ together.
Peace, David