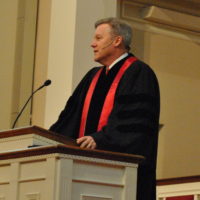 September is usually one of my favorite months of the year but in all honesty, I am relieved to be turning the calendar.  I have come to equate September with the start of hurricane season and except for a few meteorological enthusiasts, I don't know of anyone who enjoys seeing the storms.  We have a couple of months to go in the season, but 2017 has already seen more than enough damaging hurricanes.  Our neighbors in Texas, Florida, the Caribbean and especially Puerto Rico have lost so much, and we must continue to give our spiritual and financial support.  I want to thank you for the contributions of food, supplies and money you have made over the past few weeks to help hurricane victims.  As survivors of Hurricane Matthew, we know what they are going through, and we know that every prayer and gesture of kindness helps.
I encourage you to help hurricane victims as you are able, but I also want to call your attention to the needs of our local neighbors.  There is never a week that we do not have several people come by the church asking for assistance.  Some need help with housing, others need a place to stay and others need a few dollars to purchase a bus ticket to make their way home or to a job. The ministerial staff and I try to help as many people as we can.  We have guidelines in place that insure a prudent use of our available funds and we know how to say "no" when we do not trust the intent of the request.  Still, the need is great and the funds we have for community assistance are diminishing.  Our Community Assistance Fund is totally reliant on your gifts. We try to do as much good with this money as possible to meet the needs of people who ask for help.
It's been said by many that "missions begins at home."  I have not been a great fan of that statement over the years, but when you live in Robeson County, North Carolina it is true.  By many standards, ours is one of the poorest counties in the state and none of us have to travel far to find someone in need.  On most days, our church's ministers only have to go to the 6th street door to meet a person in a desperate situation.  We will continue to go to the door and do what we can, but I ask that you give to our Community Assistance Fund so we will be able to help our neighbors.