With the new year comes the opportunities for new beginnings…so what better time than now to unveil our new church logo! Our previous logo (the church building and people) has served us well for 11 years, but it is time for a newer, cleaner look to serve as our identifier in the community. The goal was to have a design that both acknowledges our rich history while communicating that we still have much to offer in today's world and culture. While the resulting logo is simple in style, there are multiple meanings hidden in this new design: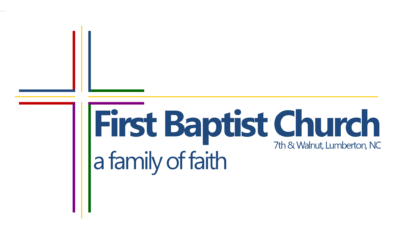 1.) Our commitment to Christ: The cross and what it stands for (God's love for and sacrifice for us) is central to who we are and what we believe. We strive to take Jesus and his message seriously in everything that we do.
2.) Our liturgical connection: The colors used in the logo are connected to the liturgical tradition that we draw from for our rhythm of worship throughout the year. Different colors are associated with different liturgical seasons – purple is used for Lent and Advent, white/gold/yellow is used for Christmas and Easter, red is used for Pentecost, and green is used for ordinary time. And the blue? Blue is becoming more and more common to use for Advent – while we don't use it yet, we hope to at some point in the future!
3.) Our downtown location: If you look closely at the cross, it's not just a cross; it's also an intersection. We are a historic downtown church, known for our location at the intersection of 7th & Walnut.
4.) Our mission to go and serve: We come together at this physical location to worship and learn and fellowship, but the light of Christ also sends us out beyond this place to love and to serve. The yellow lines in the center of the cross/intersection and extending beyond it represent the light of Christ that brings us together and sends us out.
5.) Our identity as a family of faith: While the image of the logo has changed, we still claim the metaphor of a family of faith. We are connected to each other through the love of Christ, and while challenges and disagreements inevitably arise, it is our commitment to Christ and to each other that keeps us together as we practice grace and forgiveness.
We're rolling out the logo now via our online presence, and it will make its way onto our printed documents. Soon, we'll change it on our signage on site and around town. Who knows – there might even be t-shirts or sweatshirts in our future, if there's enough interest!
-Erin