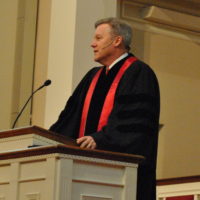 For the past several years, the preparing of gift packages for Operation Christmas Child (OCC) has been a significant part of our giving at First Baptist Church. Most recently, we have included a large scale packing day and have been able to prepare in excess of 300 packages each year. We can be pleased with this effort, and I know many of you are interested in contributing again this year. We have not been able to schedule a packing date this year for a couple of reasons, the most important of which is a problem with the vendor that we use to purchase many of the items included in the boxes. A technical glitch in the vendor's software has made it impossible for us to secure the items in time. We've considered trying another vendor, but we would possibly exceed our budget for the project, and it is not likely that we could schedule a packing day and ship the boxes to the OCC distribution center in time.
I apologize for this problem. In lieu of the packing day I want to suggest a couple of options. First, we have empty boxes prepared and ready to be used. These are available in the church office, and you are more than welcome to pick up as many as you would like and do some personal shopping to fill the box. When my daughters were young, Sandra and I allowed them to decide who (gender and age) they wanted to give a box to, and then we took them shopping to purchase the items. This gave them a sense of ownership and personal investment. I would also recommend that if you were to do this, that you devote some time to praying for the recipient of the box. The children who receive these boxes live in desperate situations and need your prayers for good health, peace and a stable home. If you choose to prepare a box and would like for the church to ship it to OCC, please return to the church by November 12th.
A second option to consider is to make a donation to the ministries that our church conducts each December. Our Children's Christmas Party is a long-standing tradition at FBCL. By your donations, our youth spend the day with a child from the Lumberton community. The youth take the children shopping and help them purchase a toy or two, clothing, and a gift they can give their family. We also provide each family with a food box for the holidays, and this year, we will be including a New Testament. Another option is a gift to the Friends of Jesus Christmas Party. The leaders of this class shop throughout the year to purchase clothes and gifts at reduced prices for the Friends of Jesus. They do an excellent job, and I assure you that your contributions to this ministry will be used wisely and bring tremendous joy to the people who are the heartbeat of happiness in our church.
I have been informed that we have received a few monetary donations for OCC this year. If you have done so, please contact our Financial Administrator, Nancy Bass, to specify how you want your gift directed. If none of the options I have suggested are acceptable, we will write a one-time check from the church to Samaritan's Purse, OCC's parent organization. Once again, I apologize for the problem with our OCC packing day, but as you see there is no shortage of opportunities for us to make the coming Christmas season brighter for people in need.
Peace, David