By accident, our ski trip was less regimented time-wise this year, and that proved to be a wonderful blessing. Our youth spent time together playing cards, ice skating, tubing, and watching football, as well as skiing. Many serious, reflective life discussions were shared, often about pressures they face. Time away allows young people to open up. It has great value.
So many of our youth have absolutely crushing demands on their time it makes me reluctant to add on to their burden by pushing for more church participation. Still, it doesn't stop me. I worry about the priorities we place on our teenagers.
I love sports. I love competition. I try to get to games (the biggest barrier I face is Wednesday night being the most popular time to schedule high school soccer). I see the value in team sports. It teaches young people how to win or lose with dignity and how to use their unique abilities to contribute to making the whole greater than the sum of its parts, which is a valuable tool (especially for church).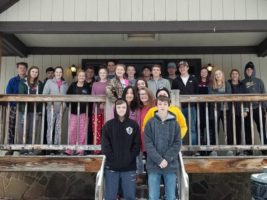 Everyone enjoys entertainment. We have been blessed with young men and women with lovely voices over the years. I have seen many youth get involved in local theater, and it has given some of them more confidence.
Academic work is extremely important to advancement in life. So important, in fact, that I choose to give it a pass in this discussion. The one exception is to say that, if nearly every high school student sees their mountain of homework (often redundant busy work) as something they must share with each other, rather than complete on their own due to time constraints, something is wrong.
For most, almost all, of us, sports and drama are simply character building hobbies at best. A quick Google search reveals that roughly 2% of female high school soccer players (1% for males) end up playing division one college soccer and that even at the highest level of college soccer, the scholarships cover roughly 1/3 of their school expenses. Roughly 1 in 1250 ever plays professionally.
Also with a quick search I was able to learn there are roughly 70,000 full time actors in the United States (out of a population of 300+ million). This is already a tiny percentage, but of the 70,000 very few are actually making "real money" at it. Hoping to make a living on stage or screen is very similar to hoping to win the lottery.
It is a commandment to have no other gods before God. Someone might mention that church isn't God either, and I agree. However, for sheer return on investment over the long haul of your teenager's life, I would say an argument can be made that spiritual development, being part of a youth group, experiencing travel, and most of all belonging to a family of faith should be high priority. Of course, as a youth minister I may be biased.