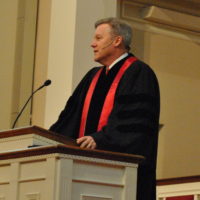 A few of our children have started the new school year and the rest will return in the next few days. At the church, we are preparing for a new and exciting year in our Early Childhood Ministry. With the beginning of a new school year, a good scripture passage to keep in mind is Proverbs 22:6 which reads Train children in the right way and when old, they will not stray (NRSV). I have traditionally interpreted this text to mean that we need to teach our children the truths of scripture. We must teach them to obey the Ten Commandments, to aspire to live by the Beatitudes and to follow the way of Jesus Christ.
I believe this is a fitting interpretation of the text, but this past week has opened my eyes to the reality that we need to go deeper in our teaching our children the "right way." The hateful speech from white supremacists in Charlottesville, Virginia last weekend and the ensuing violence is a call to all of us that we must teach our children that every person on the face of the earth bears the image of God. We need to impress upon our children the absolute truthfulness that "Jesus loves the little children; all the children of the world; red, brown, yellow, black and white, they are precious in his sight." We must teach our children that they should love themselves for who God made them to be, but loving ourselves does not mean that God loves our neighbors who have a different color skin or who live differently from us any less or more.
Furthermore, we must teach our children whom to trust for moral authority. We are fortunate to have many virtuous men and women in positions of authority. We pray for their wisdom and courage, but we must also look beyond the halls of power in Raleigh and Washington D.C. for clarity between right and wrong. Be assured, I am a proud American. I love our country and I am grateful beyond words for the men and women who sacrificed for my freedom. Nevertheless, I join Paul in saying our citizenship is in heaven and it is from there that we are expecting a Savior, the Lord Jesus Christ (Philippians 3:20). I will participate in our democracy and I will give due respect to the government, but I am counting on and answering to a higher authority than our elected officials. So must we
train our children.
Lastly, training our children the right way is to teach them to pray. These are uncertain days in the life of our nation and followers of Jesus are duty bound now more than ever to plead with God on the behalf of our President, Congress and Judiciary. Please pray for our nation. Pray for wisdom. Pray for a commitment to do justice and the courage to do what is best for every person and the earth on which we all depend. Above all, pray for peace… peace with one another, peace with our fellow nations and most importantly, peace with God.
Peace, David