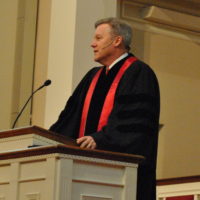 Sunday was a terrific day at First Baptist. We worshiped. We learned. We had fellowship and we made commitments. "Thank you" is the only way I know to say it, but those two words do not adequately express my gratitude for you and the responses you have made to the "I'm In" emphasis. To date, we have received commitment cards from nearly one hundred individuals, and each reflects your sincere desire to give your best to the growth of our church. If you have not returned your card yet, it is not too late! Mail it or bring it with you on Sunday, or fill out our online commitment card. We want to hear from you because every prayer, act of service and financial gift is important. For those who are offering to increase your service, I want to mention a few opportunities that are coming up this summer. I am including the date of the event/project and the minister you need to contact for additional information.
Community Café is on the third Saturday of each month—David
Prepare Communion on July 2—David or Erin
Greeter at Music Day Camp Concert on August 4—Erin
Office Volunteer—David
Offertory Prayer and/or Scripture Reading in Worship—Erin
Nursery Volunteers—Erin
Children's Mini-Camp Helpers (June 27-29, July 18-20)—Erin
Greet and host Mission Team (July 15-22)—Doug
Friends of Jesus—David or Doug
Early Childhood Ministry (readers, tutor)—David or Erin
This is not an exhaustive list of ministries you can participate in. In fact, you can probably think of several ways to be the presence of Christ to our community. Take a closer look at the people you meet and activities you participate in on a daily basis. Do you see any unmet needs? Is God prompting you to help? We are only limited by our imaginations and willingness to try. Once again, "thank you!" for all that you are doing to share the love of Jesus Christ and to grow the ministry of our church.
Peace, David